Hi! 🙂
I have completed this seamless top in size M using some yarn leftovers.
For other sizes I'd love to find testers to check my calculations.
Available sizes to be tested (this test is finished and published)
Please check that your bust circumference and arms measured at widest place are not wider than stated (I cannot offer custom-fit pattern for fuller arms).
Level: you have completed at least one tight fit crochet garment with sleeves and I can see it in your Ravelry account.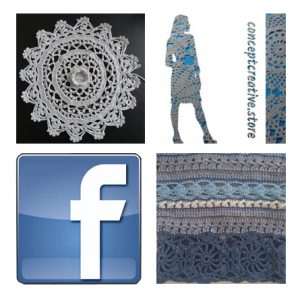 Time of completion: Upper part of this tunic (from your waist to neckline) should be finished within 3 weeks for size XS-S (the smallest here) and within 5 weeks for sizes L-4XL (last three sizes) after receiving 1st part of this pattern.
Original yarn: my tunic was made with yarn leftovers, Fingering-weight /4 ply, most of yarn was loosely woven. Some colours were originally of DK-weight /8 ply and I divided yarn in 2 strands. Fiber used: cotton/rayon; linen/rayon, cotton/linen/rayon, linen/rayon/silk.
Suitable yarn for this project: cotton or linen with 40-70 % addition of bamboo, silk, rayon or tencel, Fingering weight /4 ply /between 350 and 400 m per 100 gr/between 380 and 437 yards per 3.5 oz), 14-16 wpi. Yarn weights: http://www.ravelry.com/help/yarn/weights 
Since testers might not have 6 suitable colours I will be happy to see your project made in one colour. The idea is to make a wearable item that you like and not a garment made of all colours from your stash for the sake of this test. Approx. yarn usage of one colour: 400-700 gr (16-24.5 oz) depending on your size and length of the garment.
This yarn can be tried (with hook 2.5 mm): example 
Gauge: crochet rows of double crochet stitches (dc in American crochet terms), block and measure your swatch: 29 dc in 11 rows = 10 cm x 10 cm (almost 4'' x 4''). I used hook 2.5 mm (you can try hooks B or C).
What can be altered during the test:
– You can crochet such a cropped top, a longer tunic, or even a dress. The length under your waist level can be regulated as you go. I'm rather interested to test the stitches in the upper part (from waist to neckline). Amount of stitches in the bottom is easily calculated since this tunic is worked in rounds and I'm quite sure in those numbers :).
– You can omit several upper rows at neckline to have less coverage. Please write me your final upper round before making the neckline edge. Thank you!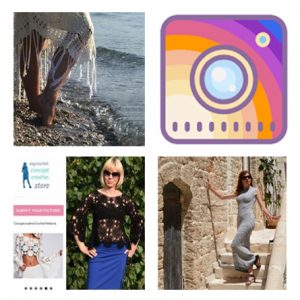 What cannot be changed during the test:
– This project is worked in rounds; please follow my directions for rounds worked wrong side facing or right side facing and do not make side seams or invent any openings.
– Crochet with yarn containing at least 40 % bamboo, silk, rayon or tencel (the remaining 60 % can be cotton or linen). This bell-shaped tunic should drape towards the bottom (with 100 % cotton or linen it may look stiff). Please make sure you have enough yarn before agreeing to test (without waiting for yarn delivery).
Pattern for testers:
The final pattern will include written instructions for sizes XS-4XL and charts that I'll draw after this test has been completed.
This will be a paid pattern (priced up to $7). All testers will receive written instructions in American crochet terms for one chosen size, without charts and for one colour. It is not a photo tutorial of every round, however several photos of the tricky parts will be included to help you along the way.
My usual way of describing the stitches: at first I state how many stitches, and then I write what kind of stitches to work, for example: 2 ch, 1 sc in 1 dc. Some designers describe the same stitches the other way round (ch2, sc2 in dc) and I kindly ask you not to change my way :).
Instructions will be sent in 7 parts (please see my requirements for testers). When one part is completed please send me photo (s) showing your current result so I can send you next part and be sure that you are on track. Test is finished after I have received photo(s) of the upper part of your tunic showing the stitches from waist to neckline (see description of part 6 in my requirements for testers).
Please link your project to the final pattern, once it is published, with at least one photo, yarn and hook info. 
HOW to Add Your Project to Ravelry
Compensation: The final version of the pattern with permission to sell what you make. All crocheters who show their final results before the stated time will receive 30% off on one of my crochet patterns of their choice. The final length (under waist) can be finished after the test – if needed.
Please send me a direct message with all required info if you are interested to participate.
Thank you and happy crocheting!
Copyright  
Photos, Charts and Row-by-row instructions that you will see during this test are property of conceptcreative.club,  conceptcreative.store, conceptcreativeblog.wordpress.com, conceptcreativestore on Ravelry, conceptcreativestore on Etsy. You agree not to retype, transmit, reproduce, publish or otherwise use for commercial purposes parts of my instructions. You may sell as many ready made crochet garments as you want, provided that you post your own photos and give link to respective pattern by Conceptcreative.store on Ravelry.