*****
Finally found time to update this top down crochet dress pattern to my current writing style :).
NOT a single STITCH or CHART were changed though!
So, what was adjusted then?
– Added a new cover photo on page 1. Alas, I was not able to show photos of the front on me at the time of publishing this dress pattern – on November 3rd, 2017 checked the day on Ravelry :), therefore most photos showed my belly covered. For the PDF I took a photo of this dress laid flat in 2017.
– Font changed to size 11.
– The majority of pages are now easier to browse on tab or mobile.
– Some explanations were simplified.
– Added a note that recommended hook sizes are for the designer's tension only. I really want you to SUCCEED in making this dress or top, therefore please allow time to check your gauge in every clothing project you make. You might crochet tighter or looser than me.
*****
Please download this New Year's Dress pattern from your Ravelry library. Updated PDF was also sent to all crocheters who have purchased it in my other shops.
*****
P.S. Yes, I deliberately wanted to create this dress without a well-defined waist – silk stretches, so by the end of the day the waist-rows move slightly toward hips ?. Plus, the well-defined waist looks perfect on thin catwalk models, while this dress pattern was designed for REAL women, with all our vast "crochet experience" around our bellies ?‍♀️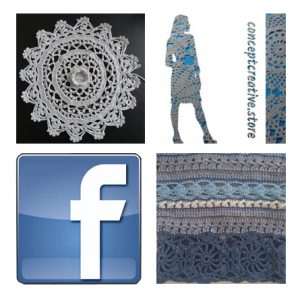 This dress pattern was published in my shops:
www.ravelry.com/patterns/library/new-years-dress
conceptcreative.store/shop/new-years-crochet-dress-pattern-crochet-tutorial-in-english/
Available sizes:
S/M with bust 87-93 cm (34.5-37''); hips up to 100 cm (39.5'');
L with bust 100-106 cm (39.5-42''); hips up to 115 cm (45'');
XL/2XL with bust 113-119 cm (45-47''); hips up to 130 cm (51'').
The top-down construction makes it possible to try it on as you go for the perfect fit. Length can be regulated as you go, so you can crochet a top, a tunic or a dress.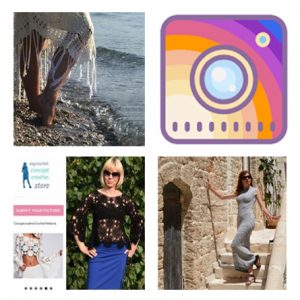 Yarn:
This pattern is written for stretchy yarn like silk, rayon, bamboo, soya, or tencel. Yarn in the sample shown: 100% silk by www.instagram.com/ocasulofeliz
Sport weight = 2 = Fine / 5 ply / 275 m in 100 gr / 300 yards in 3.5 oz.
Weight of the sample shown 500 grams (17.6 oz), length 90 cm (35.4''), model is 175 cm (5'9'') tall.
Choosing the right YARN and HOOK to achieve great results