Hi! 🙂
It will be great to see how this oversize crochet top made with thicker yarn or with gradient yarn would look like and therefore I'm looking for motivated testers.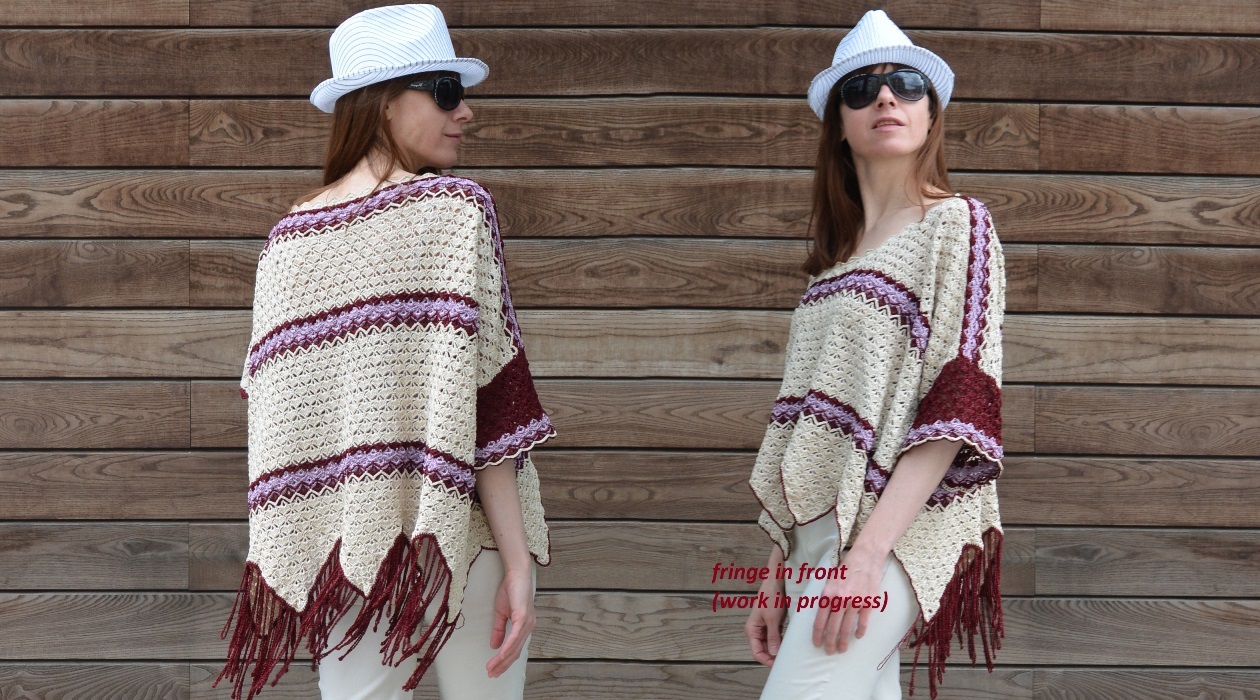 Level: intermediate
Sizes available to test: one size fits all
Time of completion:  test is closed, crochet pattern published: Momentum poncho crochet pattern
Original yarn: mixed rayon/cotton thread 415 m/100gr;  453 yards/3.5 oz; fingering-weight; 4 ply; 1 or Super Fine. Check yarn weight here: http://www.ravelry.com/help/yarn/weights
Yarn requirements for this project: your yarn should be labeled as
DK-weight (= 3 or Light) in the USA / 8 ply in UK, AU
or Sport-weight (= 2 or Fine) in the USA / 5 ply in UK, AU
or Fingering-weight (= 1 or Super Fine) in the USA / 4 ply in UK, AU
Be between 200 and 450 m per 100-gr-skein / be between 218 and 492 yards per 3.5-oz-skein.
The original top was made with drapey yarn. I suggest to use cotton or linen with 25-75 % addition of rayon, bamboo, modal, tencel or silk. Last five fibers give enough draping and fringe will hang beautifully.
Yarn suggestions:
Mimosa by Omega 240 yards (219 meters) per 100 gr (3.5 oz)
Cotton-Viscose by Drops 240 yards (219 meters) per 100 gr (3.5 oz)
Belle by Drops 240 yards (219 meters) per 100 gr (3.5 oz)
Brisa by Katia 272 yards (248 meters) per 100 gr (3.5 oz)
Firefly by Classic Elite Yarns 310 yards (284 meters) per 100 gr (3.5 oz)
Fortuna by Classic Elite Yarns 328 yards (300 meters) per 100 gr (3.5 oz)
Interesting results can be achieved with fingering-weight yarn with one long gradient change of colour. If your gradient yarn contains cotton/acrylic only (not drapey fibers) you will need additional rayon or bamboo yarn in matching colours for the fringe.
Some examples of suitable gradient yarn:
It's a Wrap Rainbow by Red Heart 415 yards (380 meters) per 100 gr (3.5 oz)
Primavera by Mondial 400 yards (437 meters) per 100 gr (3.5 oz)
Aura Shift by Stof & Stil   400 yards (437 meters) per 100 gr (3.5 oz)
Whirl by Scheepjes 486 yards (444 meters) per 100 gr (3.5 oz)
Amount of testers: 
1 tester for DK-weight yarn,
1-2 testers for Sport-weight yarn,
1 tester for Fingering-weight yarn,
1-2 testers for gradient yarn.
Please write how many colours you will crochet with and how much of them you have in stash. To this info please attach photo (s) of your yarn with all info that producer has stated.
Weight of this top: approximately 600-750 gr/21-26.5 oz depending on chosen yarn. You can divide this weight by the weight of each ball of chosen yarn to find out how many balls you will need. Make sure you have enough yarn (check your stash or local shops) before agreeing to this test.
Hook: I used hook 2.5 mm (B or C in the USA), for thicker yarn bigger hook will be needed. Most important that you love the result with chosen hook and yarn during swatching (the piece should not be wonky or tight).
Gauge: if you have already crocheted something with this yarn and loved the result count the amount of double crochet stitches (in American crochet terms) and rows in a 10 x 10 cm / 4"x4" piece in that project and write me along with information on yarn and hook; if you have never crocheted with it write me hook recommended for this yarn.
What can be altered during the test:
– Length and width of sleeves. Sleeves can be omitted as well.
– Width of neckline (it can be made closer to neck).
– Length of fringe and the way fringe is made – you can replace it by tassels, for example.
– You can crochet with one gradient yarn, with the same colour, with 2 colours or with 3 (as in the original top).
Please describe all changes you wish to make before starting this test.
What cannot be changed during the test: not specified so far.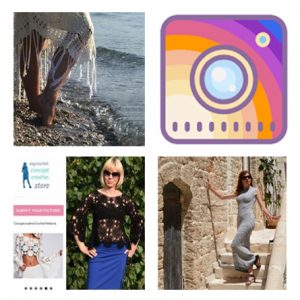 Pattern for testers:
All testers will receive written instructions in American crochet terms for their yarn and hook choice and without charts. It is not a photo tutorial of every row, however several photos of the tricky parts will be included to help you along the way. Instructions will be sent in 8 parts:
The description of shell pattern. Calculations for your yarn and hook will be based on the width and length of your swatch. Please attach photo (s) of your completed and blocked swatch taken along with the measuring tape/or lineal/or gauge testing tool.  You can send 2 photos with the measuring tape – one that shows the amount of shells in rows and another – the length of rows.
Upper part of the back
Middle part of the back (if you work with one colour parts 1 and 2 will be sent together)
Bottom part of the back
Upper part of the front
Middle and bottom part of the front
Both sleeves (they can be omitted)
Neckline edge and fringe
Completing, washing, taking photos of last part and sending them to me is considered as the end of this test!
When one part is completed please send me photo (s) showing your current result so I can send you next part and be sure that you are on track. No further parts of this pattern will be sent to testers who are behind schedule without writing excusable delay.
I kindly ask you to write me your Ravelry account when applying for this test. Please do not apply if you participated in any previous conceptcreative.store-test projects and have not received the PDF with the final pattern version (proving that you have finished the previous test).
My usual way of describing the stitches: at first I state how many stitches, and then I write what kind of stitches to work, for example: 2 ch, 1 sc in 1 dc. Some designers describe the same stitches the other way round (ch2, sc2 in dc) and I kindly ask you not to change my way :).
The final pattern will be created for all yarn types that were used during this test. So, this will be rather a CAL (crochet along) project that should be completed within one month. Second sleeve and fringe in front are not completed yet – I'm going to finish crocheting this top within this month as well.
I kindly ask to use your photo (s) of the completed top laid flat in respective pattern version made with your yarn. Your first name (and last name if you wish) will be stated in PDF, for example: photo of this top is a courtesy of Anna. Since patterns are often printed out please use one-coloured surface (white one will be perfect) to take photos of front and back laid flat and after blocking. For the same reason please do not include any distracting subjects that people will have to print out. Please write me total amount of used yarn, hook size, width and length of your completed top, amount of whole shell motifs in back, sleeves and swatch to be included into respective PDF.
Photo (s) of your top posted on Ravelry can be with any background :), but preferably during wearing this top (or hanging on a dummy).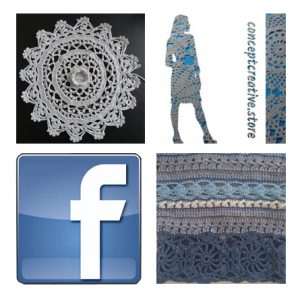 Requirements for testers of this garment:
– You love crocheting garments (or want to make your first one) and you have enough patience to complete this rather big project (this top is quite wide).
– You crochet rather fast than slow. Please let me know how many hours a day you can crochet.
– Please write your height and bust circumference when applying for this test.
– Please confirm that you allow to include photo (s) of your completed project into PDF version made for your yarn.
– Please link your project with photo (s) to the pattern published on Ravelry within 1 week after receiving respective note from me.
HOW to Add Your Project to Ravelry
Compensation: The final version of the pattern made for all yarn weight that was used during this test will be sent before 30th of June 2018 to all testers who have completed their projects within one month and uploaded their photo (s) to Ravelry. Although the process is the same and the difference is in gauge, used yarn, amount of stitches and rows I'm planning to make one PDF for each of 4 yarn types to avoid confusion: for DK-weight yarn, Sport-weight yarn, Fingering-weight yarn, and Gradient yarn. Files will contain diagrams and be maximum on 10 pages. This will be a paid pattern (priced up to $7). Permission to sell what you make is granted. Understandably if no tops are made for some yarn-weight till the end of June 2018 I will not be able to send you PDF for the missing yarn-weight.
Please send me a direct message if you are interested to participate and include info on your yarn, hook, bust, height, amount of time you can crochet in a day, what would you rather change in this top (sleeves, neckline, fringe or nothing), Ravelry name and that you agree that your photos are inserted in PDF. Photos of yarn can be uploaded to Ravelry or  Conceptcreative TESTING group.
Thank you and happy crocheting!
Copyright  
Photos, Charts and Row-by-row instructions that you will see during this test are property of conceptcreative.club,  conceptcreative.store, conceptcreativeblog.wordpress.com, conceptcreativestore on Ravelry, conceptcreativestore on Etsy. You agree not to retype, transmit, reproduce, publish or otherwise use for commercial purposes parts of my instructions. You may sell as many ready made crochet garments as you want, provided that you post your own photos and give link to respective pattern by Conceptcreative.store on Ravelry.