*****
It's great to create garments that have never existed before! This top was Designed in August, Tested in August, Published in August!

🙂 
Perfect as a coverup or worn with a slip underneath, this stand out top features a relaxed fit with a timeless crochet design in the middle, while the sides are made in easy stitches (2dc, 2ch) that can be repeated rather mindlessly.
The top on model features a rounded neck, however MORE options are included in this pattern, such as:
V-neck, higher rounded neck and thinner straps that you might see in already completed projects (please scroll down ⬇️ for more photos by testers).
Special thanks ????? to 5 wonderful crocheters:
@seila.alonso_misscositas for following crochet charts and being the fastest ? (you can watch video where Seila shows her THREE new tops here: video );
@yarnstarved for her generous help in reading the final PDF and catching my "regional differences" and a few other things; ✍️
@timberwoodsdesigns for catching a discrepancy in my video ? (you will see it in the comment to video);
HelenSant and Frequentia from Ravelry for checking my row-by-row instructions ✍️?✍️.
All testers have finished their tops within 2-5 days (depending on how many hours a day they could crochet). Since not all of you are on Ravelry or Instagram scroll down

 

⬇️

 

to see a few yummy photos from my testers.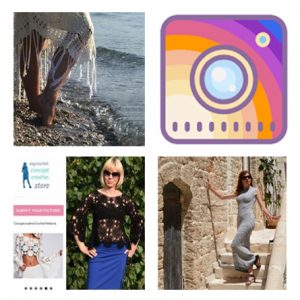 ?Great news that, there will be a BONUS for everyone who finishes this top by 30th of September 2021 – you will receive one beautiful pattern that you will enjoy wearing throughout ALL seasons:
Please check any of links below for starting crocheting your stunning Augustina Top now:
https://conceptcreative.store/shop/augustina-top-crochet-pattern-crochet-tutorial-in-english/
https://ravel.me/AUGUSTINA-top
www.etsy.com/listing/1074386617/augustina-crochet-top-pattern
Your BONUS shawl/pareo/headscarf pattern will be sent through Ravelry-messages between September 17th (when I celebrate my 46th birthday :)) to September 30th, 2021 (when I celebrate nothing :).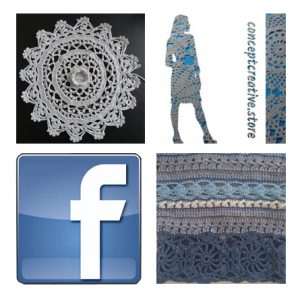 This  pattern includes:
► a 50-minutes VIDEO for all repeated rows in the body;
► colorful CHARTS that will help to correct any of your mistakes at once (chart crocheters were able to finish such tops within 2 days since they spent their time crocheting and not reading lengthy texts :)); with this pattern you can learn reading charts by following written instructions, watching videos and comparing how described stitches look like in charts);
► written ROW-by-ROW instructions in American crochet terms (stitches used: chains, single crochet, double crochet, slip stitch).
That should be sufficient for your successful completion of this top, even if you are a beginner who knows how to work the basic crochet stitches and how to follow crochet patterns. 
MORE details about this crochet #AUGUSTINAtop :
It fits sizes S-XL with bust circumference 81-115 cm = 32''-45'' and bra cups A, B, C.  The stitches in the middle might attract too much attention to larger bra cups. Sample shown on model with bust 97 cm = 38'', bust cup B, and a height of 175 cm = 5'75". The top is 47 cm = 18.5'' long measured down the middle of the Front.
Front and Back are identical panels that will be worked separately, starting in the middle of their bottom edges. The side seams are sewn from the bottom to desired length – until you are satisfied with the "coverage" under your arms. By making the straps longer or shorter you can wear this top as high, or as low, as you please. Note that the sizes L-XL will have higher neckline than the sizes S-M so that this triangle-shaped top can accommodate your bust. (please scroll down ⬇️ for more photos).
For changing the length of your top you will repeat 6 rows until you reach the desired length. With more repeats you can create a stunning beach dress with V-neckline, or one of a kind crochet wedding dress for your big day! So, let's START now!
Yarn: Sport-weight / 5 ply / 270-330 m in 100 gr  / 295-360 yards in 3.5 oz. Yarn usage is 765 yards (700 m) for the stated length.
Happy crocheting ?
AND now, finally, photos of my gorgeous TESTERS:
Copyright © 2021 All rights reserved.
Any reprinting, transmitting, reproducing, publishing or otherwise using for commercial purposes parts of this description is strictly prohibited without my prior written permission.
Feel FREE to sell your finished top(s), give them as presents and publish your result on
visit our PATTERN  SHOP   https://conceptcreative.store/shop