***
So many of you have asked when will be our next CAL on Ravelry that I've decided to organize it with one of my EASIest crochet patterns!
What's so cool about this crochet pattern?
– Not a yarn eater (the sample shown needs just one cake of very affordable acrylic/cotton)
– You can wear it on every occasion, in any SEASON, in any AGE and you will always look great in it 👌
– It's a perfect TV-project!
… So, shall we proceed?
This  crochet pattern will be published in parts on this website in March 2020. You will need to have a Ravelry account – every next part of this beautiful top will be mailed to your Ravelry inbox after you have completed the previous part. Pretty the same way as we did in our previous CALs, right?
Previous CALs in case you missed them: 
Summer mystery CAL and Spring CAL
Available sizes (you will have access to your size):
S-M to fit bust and hips from 90 to 102 cm (35-40'');
L-XL-2XL to fit bust and hips from 108 to 122 cm (42-48'');
2XL-3XL-4XL to fit bust and hips from 126 to 140 cm (49-55'');
4XL-5XL to fit bust and hips from 144 to 160 cm (56-63'').
Width of top is given for unstretched condition; during wearing it becomes 10-20 cm (4-8'') wider and has 5-15 cm (2-6'') positive ease around your hips. It is oversize 😉! Subtract the circumference of your hips from the stated width of the top to calculate the desired ease. For less ease consider choosing smaller size (or thinner yarn); for more ease choose bigger size (or use thicker yarn).
Please comment on Instagram or below this post:
the size you are going to crochet
and your Ravelry account.
Or create a Ravelry-project with this pattern right away and write your size there – I'll see it and send link to your Part 1 on March 1st.
Duration of CAL and your project: 
We will crochet this top from March, 1st till May 1st 2020. The whole process can take 25-80 hours – it will depend on your size, length, experience, crochet speed, chosen yarn and hook. And your positive mood 😉.
Yarn recommendations: 
This top will look good in different colors (gradient yarn works best here👌, for example Scheepjes Whirl, YarnArt Flowers, Wollfamos Wollfamos, Lion Brand Ombré Life etc.)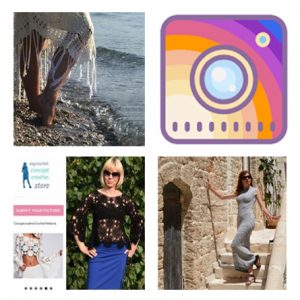 Yardage for the length 63.5 cm = 25'' measured from shoulder to last shell in the bottom:
1140 yards for the size S-M,
1400 yards for the size L-2XL;
1620 yards for the size 2XL-4XL,
1835 yards for the size 4XL-5XL.
This yardage is given for the elbow-sleeves, as in the sample shown. Length of the body and sleeves can be regulated as you go – longer body and sleeves require more yarn and vice versa. Width of sleeves is regulated once the upper part of the body is completed. The sample shown has no ease around arms.
Length of fringe in the bottom: 12.7 cm (5'').
For the fringe take 80-100 grams (2.8-3.5 oz) of drapey yarn of similar weight. 100 % rayon or bamboo work best because they will pull down the scalloped edge triangles and prevent them from turning over. Choose the same color as your main yarn or a contrasting one.
Hook and Gauge:
20 double crochet stitches by 10 rows = 10 x 10 cm (4" x 4").
I have used hook 4 mm (hook G in the USA). Please experiment with hook size to obtain the same gauge if you wish to have the same look of this garment.
Try not to crochet tight – the looser you crochet, the less pain you will have during crocheting, the more you can crochet :)) Besides, we want to have a drapey top, not a stiff one :).
Abbreviations used in this pattern (in American crochet terms):
ch – chain (s),
turning ch – chain (s) in the beginning of the row (www.lionbrand.com/how-to-crochet-turning-chain),
sc – single crochet,
hdc – half double crochet,
dc – double crochet,
tr – treble crochet,
st(s) – stitch (es),
motif – repeated sts of the pattern,
R. – round or row, prev. R –  previous R,
* – repeat the stitches from * to *,
RS – right side,
WS – wrong side.
I'll post first parts for each size on March 1st, 2020.
Procedure:
I have divided this pattern into several parts, just as in our previous CALs. Once you have completed and uploaded Part 1 to your Ravelry project page, you will receive the link to next part within 24 hours. I will see it on Ravelry :). Or you can write me if you are eager to receive next part sooner :). Each part will be released on this blog as soon as at least one crocheter is ready to start next part. As a subscriber you will receive all these parts, but they will be password protected.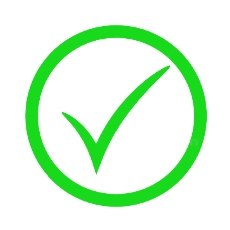 HOW to Add Your Project to Ravelry
Part 1 (Back and chart for the main pattern will be introduced here): crochet up to desired length (stop at row where you wish to start crocheting the scalloped edge) or crochet till your first yarn ball ends, then you can start crocheting Front. 
Duration: 7-25 hours. Please, upload your project to Ravelry or Instagram to receive link to next part. 
Please add tags  #conceptcreativestore and #conceptcreativecal whenever you share this project on Instagram.
Part 2 (crochet Front; chart for crocheting neckline edge will be added here): work upper part of the Front until it reaches the desired length (stop at row where you wish to start crocheting the scalloped edge), add the neat shell edging.    
Duration: 8-30 hours. Please, upload your project to Ravelry or Instagram. 
Part 3: crochet scalloped edge, add fringe, crochet Sleeves up to desired length (yarn usage is given for elbow-length).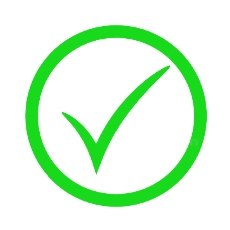 Duration: 10-25 hours. Please, upload your completed project to Ravelry or Instagram to inspire other crocheters.
Thank you! 😊  
 HOW to Add Your Project to Ravelry
FAQ 

(please contact me only if you could not find the answer on this page):

Will this CAL be prolonged if you have not finished it by April, 30th, 2020?

Answer: No, but the complete pattern can be always purchased on Ravelry, Lovecrochet, Etsy and my shop (the usual PDF-printable version).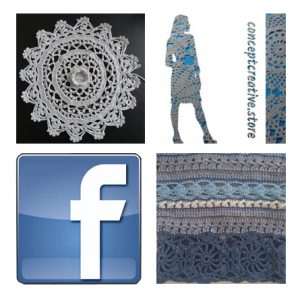 Will there be diagrams/charts/graphs?
Answer: Charts for scalloped edge for each size, shell edge around neckline, charts for crocheting shell pattern back and forth and in the round are included into downloadable paid PDF. Alas, computer-drawn charts for each of these sizes take too much place on this free blog, therefore we will mostly follow written instructions during this FREE CAL. Charts will be introduced in parts 1 and 3 and show main pattern for working shell-motifs back and forth and neckline edging for each size. These charts will help to memorize the repeats in the shell pattern and see placement of shells around the neck.
Will there be a PDF-printable version?
Answer: Yes, the PDF is available in all my shops. This free CAL will be published on this website only.
Will you be able to read next section if you have not finished the previous part?
Answer: No, because this way I will see your progress. Once you have uploaded photo(s) of one part you will receive a Ravelry message with respective password to access next part. No messages with passwords will be sent after April, 30th.
Level?
Answer: You should know how to crochet the basic crochet stitches: slip stitch, chain, single crochet, half double crochet, double crochet, treble crochet (in American crochet terms).
Making crochet garments takes a bit of patience, so ideally, you have finished other garments by now.
Copyright  
Photos, Charts and Row-by-row instructions that you will see during this CAL are property of conceptcreative.club,  conceptcreative.store, conceptcreativeblog.wordpress.com, conceptcreativestore on Ravelry, conceptcreativestore on Etsy. Printable PDF includes all materials you see on my website, along with the colorful charts. Any reprinting, transmitting, reproducing, publishing or otherwise using for commercial purposes parts of this tutorial is strictly prohibited without my prior written permission.
You may sell as many ready made crochet garments as you want, provided that you post your own photos and give link to respective pattern by Conceptcreative.store on Ravelry.