Please share with your friends! Thank you!
***
As we all are getting ready for colder seasons I created another Huge Unisex Scarf! 😊
This parallelogram shaped piece was my TV project that allowed my hands to switch between crocheting and knitting. My hands are never hurt since I design items that don't require tight stitching like bags, hats or amigurumis, but it is still great to alternate between crochet and knitting and avoid repetitive strains on my hands.
What about a pocket-scarf? Hm… I bought one French faux fur pocket scarf in about 2007 and even after 13 years of putting my hands into cozy yammy 😊 pockets they still look elegant with my collarless coat. And almost like new ones :). Which I can't say about crochet and knitted pockets – I remember they got stretched in all my knitted kid's jackets after a few hours of active wear. Except for discreet side-seam pockets – the baggy parts in such pockets remained invisible.
So, I'd rather keep this scarf/wrap more elegant so it can be draped over the shoulders.
Till September 2nd 2020 this pattern will be 15 % off with the code HANDMADE on Ravelry and Etsy.
 The pattern includes instructions for width 33 cm = 13'' and two lengths:
145 cm = 57'' for women's scarf and
216 cm = 85'' for men's scarf.
However, you can knit a longer or a shorter project.
Both scarfs have only a few narrow purl-sections for accentuating visually interesting patterns, so do not worry if your stockinette stitch is uneven – your finished work will still look like a designer-piece, a stylish Christmas gift for your loved ones.
Stitches used: knit; purl; yarn over; knit 2 stitches together; purl 2 stitches together (photos of these basic stitches are not included);
slip 2 stitches onto cable needle and hold in the back, knit 3rd stitch, yarn over, knit 2 stitches from the cable needle (photos included).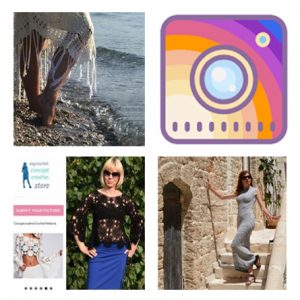 This knit scarf pattern includes:
► tutorial in ENGLISH with written interpretation of main pattern
► diagrams (reading charts is not essential, but they allow to notice any of your mistakes at once).
Get it here:
www.ravelry.com/patterns/library/scarf-heuristic
www.etsy.com/listing/637215186/unisex-knit-scarf 
https://conceptcreative.store/shop/heuristic-unisex-knit-scarf

This and 2 more neck accessories are offered with a 15% discount till September 2nd on Etsy and Ravelry
(please scroll down to see them).
The Detour cowl pattern includes the following sizes (each version has different length and width):
Child: width 50 cm = 19.7'' around neck, length of cowl 14 cm = 5.5''.
Teen: width 53 cm = 20.8'' around neck, length of cowl 23 cm = 9''.
Woman: width 65 cm = 25.5'' around neck, length of cowl 30.5 cm = 12''
Man: width 56 cm = 22'' around neck, length of cowl 19 cm = 7.5''.
Although the yarn usage is given for Fingering-weight / 4 ply / 350 m in 100 gr / 383 yards in 3.5 oz / you will be able to adjust the width of this cowl to any yarn.
The PDF includes written instructions for every row along with charts and 65 photos helping to expand your crochet skills: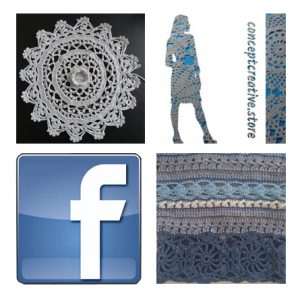 Get it here:
www.etsy.com/listing/752770697/unisex-crochet-cowl-pattern
https://conceptcreative.store/product-category/whats-more/
https://www.ravelry.com/patterns/library/detour-cowl
Get it here:
www.ravelry.com/patterns/library/shoulder-wrap-fuji
www.etsy.com/listing/154192324/unisex-crochet-wrap-pattern
https://conceptcreative.store/product-category/whats-more/
Happy crafting! 😉
HOW to Add Your Project to Ravelry