Hi! 🙂
It will be great to see how this sweater would look like on women in sizes XS-XL, and therefore I'm looking for motivated testers. This is work-in-progress – need to lengthen the sleeves and body and might add a small collar, but you can already see how it looks like.
Level: intermediate
Remaining sizes available to test: test is closed, crochet pattern published on Ravelry
Time of completion: 40-60 hours depending on your speed and size (this garment can be completed till the end of July if you can crochet 4 hours a day).
Original yarn: thin mohair/nylon 600 m/100gr;  655 yards/3.5 oz; lace-weight; 2 ply; 0 or Cobweb.
Check yarn weight here: http://www.ravelry.com/help/yarn/weights
Suitable yarn for this project: thin mohair/silk, mohair/wool, mohair/acrylic, wool/acrylic, angora, wool, acrylic provided that your gauge fits. Examples: Wendy-air, Patons-uk-misty, Schachenmayr-nomotta-kid-light etc.
Total weight: 230-300 grams (8.1- 10.6 oz). Please make sure you have enough yarn before agreeing to test (without waiting for yarn delivery).
Hook: I used hook 3 mm (you can try hook C or D).
Gauge: crochet 11 rows of 26 double crochet stitches (dc in American crochet terms), block and measure your swatch. The width of the central 20 dc in 11 rows = 10 cm x 10 cm (almost 4'' x 4''). Obtaining correct width is critical! If the width is correct, but the length of rows is smaller use a bigger hook and vice versa. If your swatch was wider than stated take a thinner yarn and vice versa. This photo shows how my stitches look like: (photo inserted into PDF).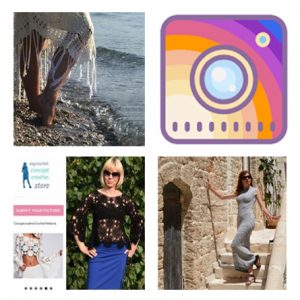 What can be altered during the test:
– Length (make a crop sweater or up to your waist, crochet short, elbow-length, or 3/4 sleeves)
– You can use one, two or as many colours as you wish
– You can make a tight-fit or straight version
– Collar can be added
What cannot be changed during the test: not specified so far
Pattern for testers:
All testers will receive written instructions in American crochet terms for their bust measurements and without charts. It is not a photo tutorial! Instructions will be sent in 5 parts:
Upper part of yoke (duration 7-10 hours)
Bottom of the yoke (duration 4-6 hours)
Front and back crocheted in one piece till sweater covers your bust (duration 6-9 hours)
Sleeves worked 10 cm/4" at least counting from round yoke (duration 3-5 hours) Completing, washing, taking photos of this part and sending them to me is considered as the end of this test!
You can crochet body and sleeves longer (any time, approximately you will need another 20-30 hours to finish the sample shown)
When one part is completed please send me photo (s) showing your current result so I can send you next part and be sure that you are on track. Test is finished after I have received photo(s) of part 4 (crop sweater with 10 cm/4" sleeves counting from round yoke). No further parts of this pattern will be sent to testers who are behind schedule without writing excusable delay.
My usual way of describing the stitches: at first I state how many stitches, and then I write what kind of stitches to work, for example: 2 ch, 1 sc in 1 dc. Some designers describe the same stitches the other way round (ch2, sc1 in dc) and I kindly ask you not to change my way :).
The final pattern will be sent to all testers who have completed their projects within the stated time and uploaded their photo (s) to Ravelry. It will include written instructions for sizes XS-XL and charts that I'll draw after this test has been completed. This will be a paid pattern (priced up to $6), 5 written pages plus charts.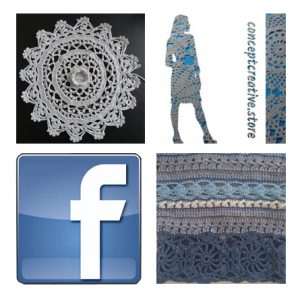 Requirements for testers of this garment:
– You love crocheting garments (or want to make your first one) and you have enough patience to complete this project.
– Your bust measurements are within the stated range. Please write your bust circumference when applying for this test. To this info please attach one photo of your completed and blocked swatch taken along with the measuring tape/or lineal/or gauge testing tool.  You can send me 2 photos with the measuring tape – one that shows the amount of stitches in rows and another – the length of rows. Photos of yarn can be uploaded to Ravelry or  Conceptcreative TESTING group. First part of this pattern will be sent to you upon receiving this information.
– Please let me know how many hours a day you can crochet.
– You agree to include photo (s) of your completed project on Ravelry and state used yarn and hook. Please link your project to the published pattern within 1 week after receiving respective note from me. I kindly ask you to write me your Ravelry account when applying for this test. Please do not apply if you participated in any previous conceptcreative.store-test projects and have not received the PDF with the final pattern version (proving that you have finished the previous test).
HOW to Add Your Project to Ravelry
Compensation: The final version of the pattern with permission to sell what you make. All crocheters who show their final results within 6 days after receiving the first part will receive 20% off on one of my crochet patterns of their choice.
Please send me a direct message with all required info if you are interested to participate.
Thank you and happy crocheting!
Copyright  
Photos, Charts and Row-by-row instructions that you will see during this test are property of conceptcreative.club,  conceptcreative.store, conceptcreativeblog.wordpress.com, conceptcreativestore on Ravelry, conceptcreativestore on Etsy. You agree not to retype, transmit, reproduce, publish or otherwise use for commercial purposes parts of my instructions. You may sell as many ready made crochet garments as you want, provided that you post your own photos and give link to respective pattern by Conceptcreative.store on Ravelry.