***
Meet the All-Purpose Shawl that can be created in any size, depending on your desires.
► ► ► This Shawl is sent as a FREE PATTERN to all supporters of the Augustina-top:
post photos of your completed top(s) on Ravelry with the link to Augustina-top and Instagram with tag #Augustinatop and you will receive the All-Purpose Shawl pattern for free till September 30th, 2021.
Instead of Instagram you can share photos of your completed top(s) in public Facebook crochet groups with this link to Ravelry. The PDF with the All-Purpose Shawl pattern will be sent through Ravelry.com between September 17th (when I celebrate my 46th birthday :)) to September 30th, 2021 (when I celebrate nothing :)).

With the same pattern you can crochet:
► short HEADSCARF to cover your head on a beach,
► longer SHAWL/PAREO to knot it around your waist,
► or a stunning wedding SHAWL that will drape around you like a breeze.
► Or maybe you would wear it as a crop TOP?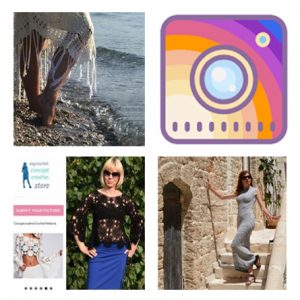 Every version is explained in one PDF.
The styling possibilities are endless and you can browse a few ideas here. Or better watch this video: www.instagram.com/p/CTHHpUnlVDz
You can decorate your finished item with fringe or attach long tassels to the corners.
This project is made with the basic crochet stitches (written in American crochet terms): ch – chain, sc – single crochet and dc – double crochet.
Both sides of this accessory feature simple stitches (2dc, 2ch) that can be repeated rather mindlessly, while the middle part is crocheted in gorgeous lacy pattern, which makes this project very addictive. All stitches are shown in VIDEOS, CHARTS and WRITTEN in row-by-row instructions, so you won't be lost :).
Recommended yarn weight:
Sport-weight / 5 ply / 270-350 m in 100 gr / 295-385 yards in 3.5 oz. You can use almost any drapey yarn that has silk, rayon, bamboo, tencel or soya. For example, my testers of shawl and top have used DK-weight yarn and achieved perfect results with it.
This PDF includes:
► links to 2 VIDEOs that show how to crochet all rows;
► colorful CHARTS that will help to correct any of your mistakes at once; with this pattern you can learn reading charts by following written instructions, watching videos and comparing how described stitches look like in charts);
► written ROW-by-ROW instructions in American crochet terms.
Download it from Etsy: https://www.etsy.com/listing/1085346571/all-purpose-shawl
Support our shop: https://conceptcreative.store/shop/all-purpose-shawl-crochet-pattern-written-in-english-chart-video/
Add to your Ravelry queue: https://www.ravelry.com/patterns/library/all-purpose-shawl
HOOK: 3 mm (D in the USA).
GAUGE: the width of 20 dc = 10 cm = 4". Although gauge is not critical here, your finished size will be affected by any differences. The resulting size of your accessory will depend on chosen yarn and hook.
Happy crocheting!
Copyright © 2021 All rights reserved.
Any reprinting, transmitting, reproducing, publishing or otherwise using for commercial purposes parts of this tutorial, charts and photos is strictly prohibited without my prior written permission. 
Only your completed work (crochet scarf/wrap) belongs to you – feel free to sell it, give as a gift as many times as you wish. Feel free to share photos of your finished item(s) here https://mycrochet.conceptcreative.store/ or add to your Ravelry list www.ravelry.com/designers/conceptcreativestore