* * *
This pattern was created as a special thanks to the yarn producer www.ravelry.com/yarns/brands/ANZULA – they have used their own ad-budget for promoting one of my new patterns on Ravelry during the first two weeks in October 2021. See more about it on my Instagram:  www.instagram.com/p/CU7zSBbsVfp
I was very pleasantly surprised by their unexpected gift and made this free pumpkin pattern with Anzula-yarn.

Finished sizes:
Height in yellow and white crochet pumpkins 4 cm = 1.6'';
Diameter in crochet pumpkins: 12 cm = 4.7'' in yellow; 14 cm = 5.5'' in white.
Hooks used in both samples:
5.5 mm for the first 4 rounds and 4 mm for last rounds.
Note that obtaining exact gauge is not crucial in non-garments because it would not make a huge problem if your finished pumpkin is slightly smaller or bigger than the samples shown. If you crochet projects that require tight tension your stitches will be tighter even if you use the same hook sizes. Opt for hooks that do not cause pain in your fingers while working with chosen yarn.
Yarn:
For the yellow or orange pumpkin use wool blends:
Substitute fibers: bulky or worsted weight acrylic, wool or cotton.
For a larger pumpkin use a thicker yarn and work in 2-3 strands.
For example, white test pumpkin was made with 52 grams = 97 yds of worsted-weight www.ravelry.com/yarns/library/alize-verona worked in 2 strands at the same time.
Abbreviations (in American crochet terms):
sc – single crochet, dc – double crochet,
ch – chain (s), st(s) – stitch (es), yo – yarn over,
prev. – previous, FLO – front loop only, R. – round,
rep from * – repeat stitches from * to *,
cluster – several incomplete sts joined together at the top and worked either in the same st or in different sts, for example, 2sc-cluster consists of 2 sc worked across 2 sts joined together in the top (aka sc2together)                 www.redheart.com/learn/articles/how-crochet-clusters
PUMPKIN    
Chain 4 (the loop on hook does not count), close into a ring with slip st, work in the round as written below and shown in diagram 1:
R.1: 1 ch, 15 dc into the ring, slip st in 1st dc of this R.
R.2: 3 ch (count as 1st dc), 1 dc in st where you started, 2 dc in each of next 14 dc of prev. R, slip st in 3rd ch of this R. Count 30 dc.
R.3: 1 ch, *2 ch, skip 2 dc, work 1 sc in gap between two dc*, rep from * 15 times totally, slip st in 1st ch of this R.
diagram 1 for the bottom of your pumpkin (R.1,2,3)
You may find this YOUTUBE VIDEO very helpful when you crochet next rows:  [link to my youtube]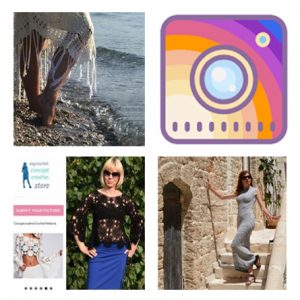 Please take photo (s) of your completed rows and post them on Ravelry with the link to this pattern www.ravelry.com/patterns/library/halloween-special-pumpkin OR tag me @conceptcreative on Instagram. OR mention your current project by this pattern on any public Facebook group and send me the link to it.
This will really help promote my patterns and be sure they are simple for you to follow.
I'll send you link to the photo tutorial for last rows within several hours:

Another reason of why I do not post the "whole crochet pattern with all charts" on the same page is that I do not wish people reselling patterns take advantage of my work – it happened when I have posted a few "whole patterns" before.
I kindly ask you to remember that WRITTEN texts and DRAWN charts are PROTECTED by copyright law.
The fact that copyright doesn't protect purely functional and utilitarian designs is why CLOTHING DESIGNS are almost never protected by copyright. Therefore, you have the right to (re)produce any clothing knit/crochet design from your own materials in the quantity you like and sell all YOUR FINISHED handmade knit/crochet garments, accessories, toys and home décor.
 Happy crocheting!