***
Kirsten from Spokane, Washington, asked me how to crochet this skirt for size 2XL, so I've calculated the width of round motifs for several plus sizes. It's now available in my shops!
If you have purchased this skirt from Ravelry  check the updated version in your library of patterns.
If you have not yet – you are lucky! ? Because I offer a 30% discount from this pattern till the end of this week (till May 19th) on my website:
https://conceptcreative.store/shop/snowwhite-skirt-crochet-pattern-crochet-tutorial/
Now you can crochet it for sizes XS/S, M, M/L, XL/2XL and 2XL/3XL.
This beach crochet skirt pattern can be purchased at its regular price in my shops:
www.etsy.com/listing/278515766/beach-crochet-skirt-pattern
www.ravelry.com/patterns/library/asymmetric-hem-skirt
https://conceptcreative.store/shop/snowwhite-crochet-skirt-pattern
Info about hips circumference & required thread is mentioned there.
If we talk about garments created with BIG motifs, the ones that are bigger than 10 cm (4"), we cannot add another motif in the back and in the front and expect a slight change in the size – the garment will be 20 cm (8") wider right away, so it's certainly not an option for increasing the size from M to L.
There are several variants to adjust motif-based garments to any size:
In mass-production of motif-garments the designers don't think twice – they cut big motifs to produce the next size. I've pointed with arrows how side motifs were destroyed by cutting them while sewing the side seams (photos by Free People; Alice + Olivia; Versace; Étoile Isabel Marant).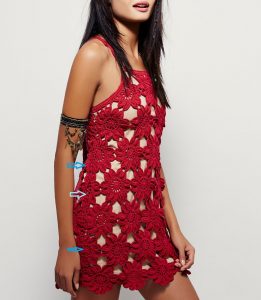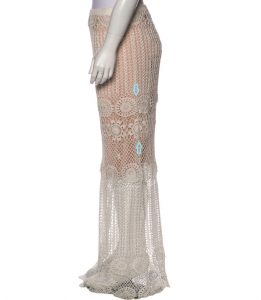 2. Not all crocheters have serger sewing machines that allow to secure the damaged side motifs. So, when we crochet handmade garments we use whole big motifs, their halves, and their quarters to adjust a garment to our size. To one particular size :).
The side motifs in my crochet skirt are arranged without cutting them along :).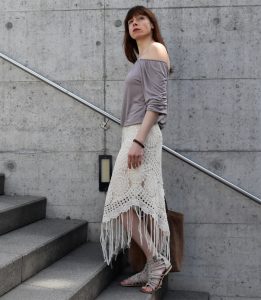 3. Some pattern writers suggest to create a paper sewing pattern for your size, place crochet motifs onto it, then fill in the remaining spaces with… whatever you wish. This method works for creating one-of-a-kind Irish Crochet and Free Form Crochet garments – where each individual crochet piece is available for free on the internet. How to combine motifs into a dress/top/skirt will be up to you… because all elements in these techniques are placed irregularly. No strict assembly order can be suggested because of this irregularity – you will be like an artist who creates a new picture!
Honest designers admit that crochet garments created in Irish Crochet and Free Form techniques are rather recipes, not precise patterns, one-of-a-kind creations – you won't be able to produce the same result due to the nature of this technique. So, they offer these recipes for free or publish photos in Russian crochet magazines notorious for their stunning pictures and rather vague descriptions.
In my first year of crocheting I've finished such a jacket in irregular technique. I've used free charts for one crochet flower and one crochet leaf. It was pretty simple to add more stitches into leaves and flowers, chain more or less to create my own motifs. One crocheter begged me for this pattern a while ago, but I can't sell commercial garment patterns if they don't have clear assembly and precise directions for repeats. It would be cheating on her.
Please comment this post if you would like to read my free recipe for leaf and flower motifs used in this black motif-jacket. Definitely not as a new paid pattern :).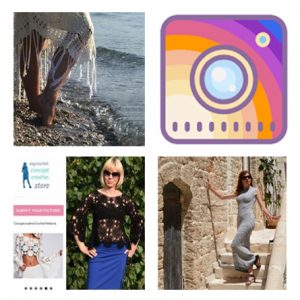 The detailed assembly-layout that shows connections between motifs, their specific place in a garment is included in all my commercial patterns. Sure, it takes more time to draw huge charts, but I prefer to give crocheters all the necessary information to finish their motif-garments faster. Because they have paid for the exact assembly, not for explaining how to crochet one doily :).
Happy crocheting!