* * *
Mi-parti in French: "divided down the middle"
Popular in the Middle Ages, the "Mi-parti" fashion style featured different colored fabrics joined together in the middle: dresses, tabards, surcoats, footwear, legwear or cowls would be half one color and half another.  Colors in garments could indicate a certain status, affiliation or emulate the division of the coats of arms.

MI-PARTI: BAG Crochet Pattern
Copyright © Conceptcreative.Store  All rights reserved. Any reprinting, transmitting, reproducing, publishing or otherwise using for commercial purposes parts of this tutorial is strictly prohibited.
You MAY NOT make video instructions, unauthorized translations or other tutorials following any of our patterns.
Please respect our time for creating patterns as we respect yours: you MAY sell your handmade items produced using the directions in our patterns.
Feel free to share photos of your finished items on http://mycrochet.conceptcreative.store to inspire other crocheters.
Size of the sample shown:
The diameter of the round part is 20 cm = 8''; the borders (sides) are 5 cm = 2'' high.
Since this bag is worked from the centre outwards you can crochet it to the desired size.
MATERIALS in this sample:
Hooks:
3 mm for the round main part (hook C or D in the USA);
4 mm for the borders (hook E in the USA). 
You might crochet tighter or looser than the designer even when using the same hook.
The diameter of the first completed 9 rounds is considered as gauge in this pattern.  
If your gauge differs but you like the result you can make adjustments as described below. Your yarn usage will differ too.
Since lots of crocheters ask me about this foldable gauge-frame, I'll answer here – that was my Christmas gift! 🙂
One of my friends creates beautiful ancient instruments (astrolabes, quadrants etc.) – beautiful pieces of art now (and useful medieval instruments then). 
Don't know whether he's about to produce these foldable frames or it was one of a kind gift, but you could ask him through his Etsy-shop: www.etsy.com/shop/MasterTerebrus/sold or his Facebook: www.facebook.com/masterterebrvs

Zipper 23 cm = 9''.
A 1.1 m = 1.2 yds long metal chain attached as a handle will give your bag a neater look. 
For a crochet handle consider purchasing more yarn.   
Yarn used in this sample: 
220 yards = 200 meters of Egitto by Titan Wool, a loosely twisted 100 % cotton  ravelry.com/yarns/library/titan-wool-egitto  
You will need 2 balls:
110 yards = 100 meters in white and 110 yards = 100 meters in dark blue.
You can use other cotton or polyester yarn of similar weight. 
If you are thinking about using polyester yarn:
Positive sides of polyester yarn:
1. Polyester is strong and light-weight.
2. Polyester is highly resistant to ultraviolet, water, which makes it ideal for long-term active use in bags. Polyester fibers can withstand 12 months exposure to sunlight and still retain over 67% of their strength.
3. It's the best wash-and-wear fiber, it has impressive stain-resistance, it's quick drying and wrinkle resistant!
4. It remains one of the most inexpensive textile products in the world.
5. It's highly resilient and resistant to stretching and shrinkage – it keeps shape of this bag well. By the way, when polyester is blended with wool, acetate, or rayon, the durability of the blended fabric improves. When blended with cotton, polyester improves the shrinkage, durability, and wrinkling profile of cotton. Essentially, anything made from cotton can also be made with polyester.
Negative sides of Polyester yarn:
1. It's very important to wash it in lukewarm water otherwise it the stitches will be deformed.
2. Polyester garments are not very comfortable for summer as you will sweat a lot in them.
3. Polyester is the 2nd offender in terms of microfiber pollution after the acrylic. Unlike biodegradable fibers like wool, cotton, or silk, however, polyester does not naturally degrade in the environment. It is knot known how long polyester will remain in the ecosystem before it degrades.
So, it's up to you what to make this beauty with. 🙂
Optional materials for this bag:
A round FRAME or plastic canvas will keep the shape of your bag.
Currently available (November 2022):
www.walmart.com/ip/18cm-Metal-Clasps-Dinner-Round-Box-Purses-Frame-Handles-for-DIY-Handbags
www.amazon.com/freneci-Plastic-Canvas
https://www.aliexpress.com/item/1005001990561163.html
Please note that I don't receive commission if you purchase anything from these links – these are just a few examples that you can find on the internet in your country.
If these products get discontinued, please use Google-search to find similar ones.
LINING slightly larger than the size of your bag that will hold the round plastic canvas.
Abbreviations (in American crochet terms):                               
yo – yarn over,
ch – chain (s),
st (s) – stitch (es),         
sc – single crochet,   
Hdc – half double crochet,
dc – double crochet,
pdc – post double crochet,
WS – wrong side,
RS – right side,
prev. – previous,
rep – repeat, 
* – repeat stitches from * to * as stated.
Special stitches:
fpdc – front post dc: yo, insert hook from RS around post of one st of prev. row from right to the left going through the front, yo, finish 3 loops on hook as a regular dc.
bpsc – back post sc: insert hook from WS around post of one st of prev. R, yo, pull yarn under this st, finish 2 loops on hook as a regular sc.

By now the WRITTEN FREE CROCHET PATTERN for the mini bag has EXPIRED.
It 

was offered to all supporters of Conceptcreative.store in November-December 2022 – to all crocheters who regularly made items using our patterns and posted photos of their finished makes on Ravelry and Instagram. That's what we regard as SUPPOR

T

.
However, you can purchase add-free PDF pattern that contains charts

, 

row-by-row written instructions

 and link to 

video-tutorial

for a small fee: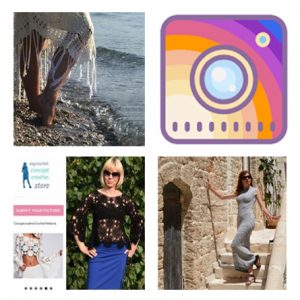 Happy crocheting!