*****
Why so many summer clothes are made from cotton? This material is BREATHABLE, soft, lightweight; it admits air to your skin (like your breathable face mask :)) and allows sweat to evaporate.
Hence, the NAME of this summer top.
This crochet pattern will remain FREE for everyone who has 50-150 grams

*

of cotton yarn and wants to make this top in August 2021. From September 2021 this crochet pattern will be available for a small fee.
*

Note that your yarn usage depends on your size, gauge and desired length.
GOT your yarn and hook?
Start crocheting this

top crochet pattern NOW!
Add to your Ravelry queue:
This pattern includes:
► written row-by-row description in ENGLISH with photos for several rows and stitches that might cause questions;
► links for two videos that show how to crochet all stitches and rows;
► colourful charts that allow you to see all crochet stitches at once.
All of that should be sufficient for your successful completion of this top, even if you are a beginner who knows how to work the basic crochet stitches, work in the round and how to follow crochet patterns.
With this pattern you can learn reading charts by following written instructions and videos and comparing how described stitches look like in diagrams.
visit our PATTERN  SHOP   https://conceptcreative.store/shop
This top pattern is Size Inclusive – it is written for nine sizes:
XS (in pink) with bust circumference 76-80 cm = 30-31.5'';
S (in black) with bust 85-89 cm = 33.5-35'';
M – on model (in blue) with bust 94-98 cm = 37-38.5'';
L (in burgundy) with bust 102-106 cm = 40-42'';
XL (in green) with bust 111-115 cm = 43.5-45'';
2XL (in red) with bust 120-125 cm = 47-49'';
2-3XL (in lilac) with bust 129-134 cm = 51-53'';
3-4XL (in orange) with bust 137-142 cm = 54-56'';
4-5XL (in turquoise) with bust 145-151 cm = 57-59.5''.
When only one number is given, it applies to all sizes.
Your top can be made in two variants: a short bandeau top and a longer top with straps. Suggestions for lengthening your top and turning it into a crochet dress or tunic are given as well.
Copyright © 2021 All rights reserved.
Any reprinting, transmitting, reproducing, publishing or otherwise using for commercial purposes parts of this description is strictly prohibited without my prior written permission.
Feel FREE to sell your finished top(s), give them as presents and publish your result on
Materials needed:
HOOK size: 2.5 mm or hook needed to obtain gauge (every crocheter has her own tension). The calculations for all sizes are based on the width of 20 double crochet stitches 10 cm = 4'' and length of 12-12.5 rows 10 x 4''.  See my gauge-swatch below. Your stitches should be measured after washing and blocking your swatch.
All stitches are written in American crochet terms.
If your gauge differs but you like the result you can make adjustments as described in row 1. Your yarn usage will differ too!
You do not need to buy this foldable gauge-frame – just use any measuring tape or another gauge-frame :), but since lots of crocheters ask where to get it, I'll answer here.
That was a Christmas present! 🙂
One of my online-friends creates beautiful ancient instruments (astrolabes, quadrants etc.) – beautiful pieces of art now (and useful medieval instruments then).
Don't know whether he's about to produce these foldable frames or it was one of a kind gift, but you could ask him through his Etsy-shop: www.etsy.com/shop/MasterTerebrus/sold or his Facebook: www.facebook.com/masterterebrvs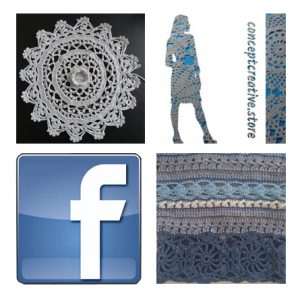 Now, what YARN produces best results for these TOPS?
Soft cotton, cotton/rayon, cotton/silk or cotton/bamboo blend.
Yarn weight: Fingering or Sport-weight = 1 or 2 weight  = Superfine or Fine (in USA) = 4 or 5 ply (in UK, AU) = length between 280 and 350 m per 100 gr = length between 360 and 380 yards per 3.5 oz. Suitable examples:
Baby Cotton fingering by Lang Yarns
TEST whether you will enjoy wearing your summer torso garment (tunic, top or dress) that will be made with your yarn during the summer heat:
Take your yarn outside during the temperature you would be wearing your torso garment; try to crochet/knit with it without air conditioning.
Check the time 

⌛

needed for your hands to get sweaty. That's approx. time you will feel fine in that garment when you are moving in it outside during the same temperature.
Yes, you can use any fiber if you are creating tops only for taking photos for Instagram in an air-conditioned room – it will be fine to knit or crochet with almost anything, even bras with bulky weight wool or acrylic :).
Here you see screen shot from the downloadable PDF because my website copies text in black, and every number for 9 sizes needs to be colored manually. I suggest browsing this page on your computer or tablet because all screen shots on your mobile phone will look too small.
All measurements taken with tops laid flat. The top length will fall differently on women of different heights. To see how long the top will fall, measure the back length measurement against the wearer. Straps can be regulated as you go; the length of one strap in this sample 34 cm = 13.4" or 17 cm = 6.7'' when folded.
What else will you need?
If you plan to add straps you will need a tapestry needle to sew one edge of your straps with the main yarn.
If you would like to make a bandeau top you will either need an elastic band to prevent your top from falling down. Or sew it to the waistband of a ready made skirt with elastic band as shown here.
Or attach straps to add extra support as described. Each strap needed 21 m = 23 yds in this sample.
I have sewn this bandeau top to a maxi skirt of a contrasting color:
Abbreviations used (in US crochet terms):
ch – chain (s),
sc – single crochet,
dc – double crochet,
tr – treble crochet,
st(s) – stitch (es),
yo – yarn over,
rep – repeat,
* – repeat sts from * to *,
found. – foundation,
prev. – previous,
R. – row or round.
Stitch pattern with 4 petals will be called Forsythia because its flowers have 4 petals: https://en.wikipedia.org/wiki/Forsythia  Photos, charts and videos show how to crochet this stitch.
I also love this name because we took photos of this gradient crochet skirt with Forsythia in the background and I would like to remember this name :).
NOTES:
Construction: This top is worked seamlessly in the round from the top down; the foundation chain will be under your arms where your bust tissue begins. 
The found. ch will prevent upper rows with dc-sts from stretching. Do not start this project with dc chainless foundation row because it will stretch more than needed in this pattern.  
Work in joined and turned rounds unless otherwise stated: finish each R. with slip st, then turn your work to crochet next R. in the opposite direction. Using stitch markers in the first and last st of each R. will be helpful.
In the bandeau top you will work rows 1-21 once in sizes XS-XL; in sizes 2-5XL you will work rows 1-8 once, repeat rows 6-8 once, then work rows 9-21 once.            
In the top with straps you will work rows 1-18 once, then repeat R.1-13 once in all sizes.
You can omit some rows if you wish to make a shorter top.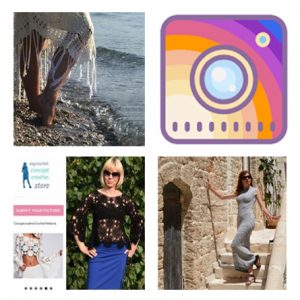 Length of top and straps can be adjusted as you go – you will repeat the same rows to desired length. If you wish to increase the length of this top repeat rows that you like best. The yarn usage will differ then!
If you wish to decrease your longer top for waist shaping see that the number of sts in repeated rows 1-13 is a multiple of 16 or use a smaller hook for these rows.
All width adjustments are made in rows 1 and 10. If the length of R.1 is shorter or longer than needed for your size and yarn it is better to rework found. ch or R.1 than the whole top.
Thank you very much, Anna, Lynn, Michelle, Alexandra, Jammie, Rassini, Joyoj, Frequentia for showing your stunning results! Hope you will enjoy wearing your beautiful garments!
See projects finished in August 2021 on Ravelry and here: