***
Out of all the beach-ready fashions, no garment offers versatility quite like the Wrap Around Skirt. And it's the best solution for women who gained some weight during lockdowns (like me :)), but do not mind it :). I feel that it's just the perfect item this summer, when we're looking to bring comfort into our lives in an elevated way. In fact, the wrap around design inspired many runway looks. It all confirms that the easy-going beach look can effortlessly come along for the ride for dressier occasions too. This skirt can make an effortless yet polished statement at a summer barbecue or a weekend brunch.
Check out video with this skirt: www.instagram.com/p/CRmJnrEll2f 
If you're intrigued by the versatile wardrobe hero, you will start crocheting today and wear it all summer long. As a sarong skirt or shawl/wrap on your sun-kissed shoulders 🙂
How to wear it as a shawl:
Place the triangle on your left shoulder, keep the part worked with darker yarn over your chest area, and now place the remaining long corner on the same left shoulder and let it hang in the back. Adjust the shawl evenly around your neck just like you see in photos. Say cheese! 🙂
Download it from Etsy: www.etsy.com/listing/1040555998/wrap-around-skirt
Support our shop: https://conceptcreative.store/shop/serpentine-crochet-wrap-pattern-crochet-skirt-pattern
Add to your Ravelry queue: www.ravelry.com/patterns/library/asymmetric-wrap-serpentine-2-in-1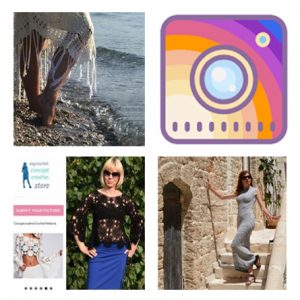 SIZES: XS-XL (the sample shown in size M).
MAIN YARN: 100 % cotton; Fingering-weight / 4 ply / 390 m in 100 gr / 430 yards in 3.5 oz.
HOOK: 2.75 mm (C in the USA).
Happy crocheting!
Copyright © 2021 All rights reserved.
Any reprinting, transmitting, reproducing, publishing or otherwise using for commercial purposes parts of this tutorial, charts and photos is strictly prohibited without my prior written permission. 
Only your completed work (crochet scarf/wrap) belongs to you – feel free to sell it, give as a gift as many times as you wish. Feel free to share photos of your finished item(s) here https://mycrochet.conceptcreative.store/ or add to your Ravelry list www.ravelry.com/designers/conceptcreativestore