***
We have ended this Spring crochet along and I congratulate all our participants with new dresses and tops! Let me show several stunning projects – not everything, because some crocheters are about to finish last rows. And because photos need space that I could use for publishing new patterns :).
  www.ravelry.com/projects/D2B/spring-top-ailanthus – this is one of the fastest projects finished by Diana within 10 days.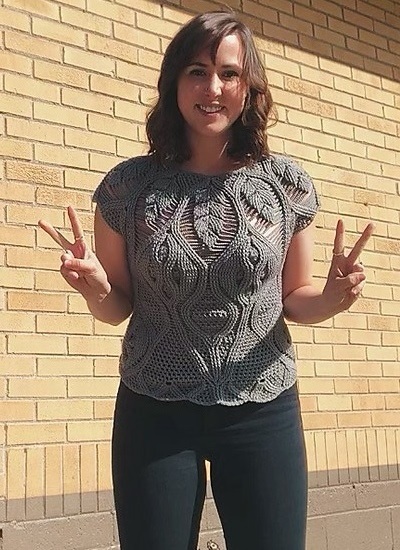 www.ravelry.com/projects/yarnstarved/spring-top-ailanthus – beautiful top completed by Alice for her daughter within 13 days.
  www.ravelry.com/projects/CrochetAlaDia/spring-top-ailanthus – One of the most challenging projects finished by Claudia, and she made it perfectly!
  www.ravelry.com/projects/maskiano/spring-cal-2019 – absolutely stunning dress by Eme, and it suits her so well!
  www.ravelry.com/projects/sonkyte/impulsion-maxi-mini-dress – amazing blue dress by Sonata.
  www.ravelry.com/projects/FilonovaOks/spring-cal-2019 – very flattering dress by Oxana.
We had several fastest crocheter, like Khascat, who received the link to 1st part on April 19th and is about to finish both – dress and top on May 1st ? Bravo! 
I am really impressed by every project and you can see work of our talented crocheters here:
www.ravelry.com/patterns/library/spring-cal-2019/people
www.ravelry.com/patterns/library/impulsion-maxi-mini-dress/people 
www.ravelry.com/patterns/library/spring-top-ailanthus/people
And don't forget to share yours ?.
Please use these hashtags #spring_cal, #conceptcreativestore, #crochetalong when sharing photos of your project on Instagram so we can like them!
Our crochet along was divided into several parts because the biggest reason of not being able to finish such a challenging project is not knowing how to manage it in small chunks, then getting overwhelmed and worn out on the mere thought of even doing it. So, if you crochet one of these patterns later try to follow this schedule to keep the whole process exciting. Because every section will give you a feeling of "I did it!" and you will be motivated to succeed ?.
Schedule for Top and Dress with flared skirt
Schedule for Mini or Maxi dress
I have organized this CAL because these 3 projects stand apart from the existing simple T-shaped garments that are created with huge bumps at armholes. And because I wanted to meet crocheters who look for something more interesting than constantly repeated rows of simple crochet stitches, created with big hooks and thick yarns. Moreover, I looked into projects that our participants have started after the end of this CAL.
I'm happy that we have so many attentive crocheters who can follow written instructions and do not require step-by-step photos/videos of every row for reassurance. They know how to crochet and they have accomplished their projects.
The majority of participants came to finish. Several crocheters were busy with other projects or work, some preferred to crochet simpler things and stopped after 2nd or 3rd part. 3 times I have received messages like "row 1, 12, 30 etc. is wrong because I made it several times with mistakes". Maybe it is worth to think: "Why would there be so many other crocheters who have finished their projects? Is the pattern designer to blame or myself for being not as attentive?"
Alas, some crocheters think that a pattern-designer is to blame. As one of participants wrote, it was hard to keep track on the right row of the pattern, otherwise the pattern was clear ; her clarity rating of that pattern was 3. I see a logical fallacy here, because Ravelers are to rate the pattern and it's completeness. As long as crocheters follow the instructions "without any issue" , everything is doable. It just takes practice, patience and persistence to tackle something new.
Crocheting is easy indeed – the most used crochet stitches are the same for beginners, intermediate and advanced users: chain, single crochet, half double crochet, double crochet, treble crochet. Crochet is basically just pulling loops of yarn through other loops; complex stitches are just different combinations of this basic action. As long as the pattern explains how to form the different stitches required, and in what order, what is difficult about that? Surely it can be challenging, intimidating, complex and require concentration. As one of crocheters in this CAL noted – "requires quiet time away from my two dogs".
Some crocheters mentioned the absence of the total number of stitches in every row. I do include the total stitch number if a row consists of the same stitches (say, 120 dc), or the same motifs (say, 20 shells in size S; 22 shells in size M; 24 shells in size L, and so on). These CAL-projects have lots of different stitches in every row, some motifs are wider, some are longer. For example, stating the total amount of front post dc stitches (say, 51 fpdc) and total amount of chains (say, 100 ch) in each row might not help if you have worked 2 fpdc in one place and 4 fpdc somewhere else (instead of 3 fpdc in both of these places) and do have the total of 51 fpdc. You will rather find a missing 1 fpdc in one of 3-fpdc-columns (or in one leaf that differs from others) than wondering where you could miss 1 fpdc. So, whenever you follow the described sequence of the stitches it's pointless to count 51 fpdc or 100 chains in total, in one row.
Many participants asked how I could reverse engineer exact looking garments that were seen in catwalk shows only, thus do not have any existing pattern. I have learnt crocheting and reading crochet charts through books in 2008, opened my pattern shop in 2013. So, any crocheter with 40-50 years of experience might consider me a mere beginner :). Part of the reason for my accomplishments is that I've never had anyone tell me "you can't do that, it's too hard for a beginner." I have always created what I wanted without having any pattern (I do not use published crochet tutorials for my inspiration because it's too boring). I described rows for many elaborate crochet garments and drew charts for my crochet patterns using a professional design software. I've spent several years in a historical reenactment group, so re-doing something intricate from photos was our usual practice :). Re-enactors are probably the most rigorous people because they look into every seam, every pleat, and try to repeat the same historical costume. But such an activity is not worth in crocheting :)). Especially, seeing that many designers reuse existing charts and ideas to create simpler garments.
I can not grasp why there are so many similar-looking T-shaped cardigans, worked with double crochet stitches only. Or granny-squares shrugs and tops. What is the point of describing them again? Because one can offer a better well-written version of how to work endless rows of double crochet stitches for beginners? How could they be bestsellers? Can't people find the same free patterns on the internet? Or remember some earlier versions published before?
So, will there be more of such challenging projects? I have some doubts and let me explain why.
Many CAL-participants have ended their tops and dresses and started working on beginner-friendly crochet projects, that were very easy to remember and follow. So, it was the best experiment to see that Ravelry community does not need anything elaborate like these patterns. It means, I should not spend my free time with describing and drawing something that requires more than 5-10 different rows :).
It reflects the Ravelry rating system as well – the simpler is the pattern, the more higher love-rating it would have. Here is an example of such a rating for one of Ravelry garment-patterns. 609 users have loved it and the majority has rated it as level 2, 3 or 4 in difficulty. Levels 8, 9 or 10 were given by a single user, but it was not agreed upon by group consensus.
Of course, there's a lot of ego in any ranking system. If you found a pattern easy, it's not because you're a highly skilled crocheter, it's because the pattern is easy. If you rank something as challenging and difficult, while everyone else said it was easy, then others might be more experienced.
Ok, these Ravelers have not described their own skills, say beginner, intermediate and advanced in this particular area. A beginner can rate an easy pattern as intermediate, thought it is a 'piece of cake' for someone with more advanced skills. Different things are difficult for different people, for example, a crocheter who has been making potholders, toys and blankets for 40-50 years might be not very experienced in creating garments.
Defining and categorizing things depends on a person. There was an experiment on how older, middle-aged and younger people estimate time when they are asked to walk from one place to another. Older and more relaxed people have overestimated time and younger agile respondents underestimated it. Same is with crocheting – people who are accustomed to learn fast will regard many patterns as very easy. The more experienced crocheter is, the easier it will be to complete something mildly challenging. Slow learners or people who regard crocheting as an effortless hobby might give up on a project that requires more of their attention and patience.
Most crocheters prefer lower level of difficulty, defined as 6 or smaller. And if they are capable of completing a 6-pattern, they still prefer to follow a 3-4 pattern, just because they don't like doing difficult work all the time. Pattern-writers also feel more comfortable to offer such easier patterns because they need to cover their time-expenses and they can sell them better. It's simpler to admit that the medium-challenging crochet projects are probably the most suitable for the not ambitious majority of crocheters. An average Raveler does not want to become a crochet or knit genius, and desire to achieve new horizons by improving their skills The simpler is the project, the less attention is required, the more beginner-friendly it will be, the better rating and more completed projects it will have on Ravelry.
And this is what we saw after this CAL ?.
Happy crocheting!