***
What do you take on overseas vacations/holidays to crochet on your flight or in your spare time? I always pack 1-2 balls of thin cotton that won't take much weight in my luggage and if I travel for 1-2 weeks I can even finish my project and put it on!
This seamless raglan crochet sweater is about travelling light – it calls for thin cotton that will be worked with ONE strand and a 2-3 times LARGER hook than is usually recommended by yarn producers.
I hope you will love to make and wear it on your vacations/holidays.
You will crochet in the round from the top down, thus the length of sleeves and body can be regulated as you go – you can create crop tops, mini dresses with short or long sleeves, with round or boat neck.
Just as YOU desire! And yes, anything can be inserted into your finished sweater:
The PDF on 23 pages includes:
► detailed tutorial written in ENGLISH for every row with charts;
► links to video that show how to crochet all these stitches;
► lots of customization options:
bell sleeves and straight sleeves; round neck, boat neck, off-the-shoulder neck; with or without embellishments (they are added after your sweater is finished: 50 ideas for Halloween, Animals, Geometric patterns are drawn and included in PDF).
► Wish to crochet a basic sweater without embellishments? Consider purchasing this pattern: Vacations crochet sweater pattern
our FACEBOOK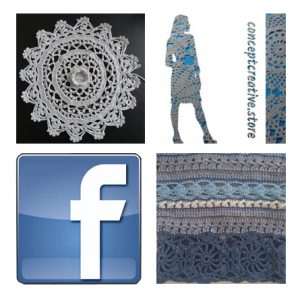 This sweater crochet pattern is Size Inclusive and contains instructions for sizes:
S with bust circumference 84-89 cm = 33''-35''
M with bust circumference 92-97 cm = 36.2''-38.2''
L with bust circumference 99-104 cm = 39''-41 ''
L-XL with bust circumference 106-111 cm = 41.7''-43.7''
XL-2XL with bust circumference 113-118 cm = 44.5''-46.5''
2XL with bust circumference 121-126 cm = 47.6''-49.6''
3XL with bust circumference 128-133 cm = 50.4''-52.4''
 

DOWNLOAD this seamless sweater crochet pattern:
https://www.ravelry.com/patterns/library/sweater-vacations
https://www.etsy.com/listing/1310119437/seamless-crochet-sweater-pattern  
https://conceptcreative.store/shop/vacations-crochet-sweater-pattern-embellished
https://www.etsy.com/listing/154197061/seamless-crochet-sweater-pattern-written
https://conceptcreative.store/shop/vacations-crochet-sweater-pattern
YOUR DISCOUNTS:
Use code YOURVACATIONS to get 25% off from this pattern on Etsy through October 15th, 2022.
Also, if you hurry and use code SEAMLESS in September 2022 you will save 20% from the price for these top down seamless sweater patterns:
https://www.etsy.com/listing/775654896
https://www.etsy.com/listing/618966110
https://www.etsy.com/listing/735251329
Level: intermediate (project using a variety of techniques, mid-level shaping and finishing)
Hook 4.5 mm or hook to obtain gauge. Gauge 17 dc by 10 rows = 10 x 10 cm (4″ x 4'').
Main yarn (work with ONE strand): Lace weight / 3 ply / 500 m in 100 gr / 550 yards in 3.5 oz/ examples. You will need 250 – 500 grams (8.8 – 17.6 oz) for sweater without embellishments (depends on chosen length and size).
Check yarn weight here: www.ravelry.com/help/yarn/weights
Choosing the right YARN and HOOK to achieve great results
SPECIAL HUGE THANKS TO ALL TESTERS OF THIS PATTERN!
@yarnonahook, @kmendlar, @mendlarhollyann, @raszkacrochet, @rassini, @lightscameracrochet
 Happy crocheting!
HOW to Add Your Project to Ravelry